Product Info
What is Swissoats A3 ?
Swissoats A3 is cold pressed from a special strain of Oat plant thus giving you a product that is higher in nutrients and quality than extracts pressed from common oat varieties. The plant contains the highest concentration of bioactive compounds when it is just beginning to flower and it is at this time that Swissoats A3 is cold pressed to give the highest quality and bioactive extracts.
The unique method of processing used in Swissoats A3 ensures preservation of key compounds in a living state with highest nutrient levels and the best quality extract. The special packaging using the latest technology preserves the effective compounds alive for up to 3 years.
What is the ingredients of Swissoats A3?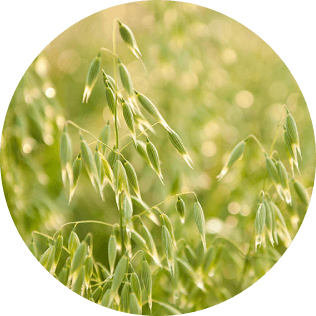 Swissoats Extract
Contains biologically significant amounts of L-dopa, needed by the body to make dopamine (a neurotransmitter) and is proven helpful in sub-clinical memory impairment. Rich source of insoluble fibre. High Fibre diets are known to decrease the incidence of bowel cancers. Also holds on to fat and sugar in the gut to avoid major fluctuations in blood sugar levels which is important for people with cholesterol problems and diabetes. The cholesterol lowering effects of Oats has been clinically verified and documented.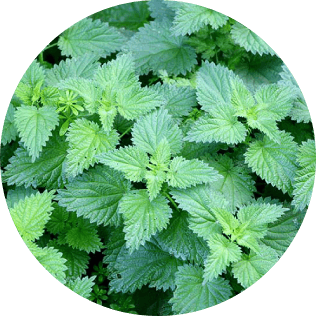 Stinging Nettles
Rich in Vitamins and minerals such as Vitamin A & C, calcium, magnesium and iron, all of which increase red blood cell count. Hence it has positive effects on hormone and protein that helps beat menopause and women with peri-menopausal symptoms. Furthermore, it contains nourishing agents for pregnant women and lactating mothers. Stinging Nettle has been clinically proven to be useful for allergic rhinitis, rheumatic disease, acute arthritis, benign prostate hyperplasia, inflammatory diseases of the lower urinary tract and prevention plus treatment of Kidney stones.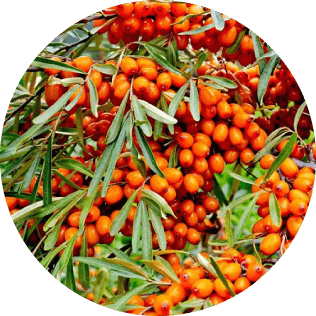 Sea Buckthorn
One of the most nutritious and vitamin rich fruits found in the plant kingdom, it has the richest source of antioxidant vitamins A, C and E that help neutralize the cell damaging effect of free radicals and slows down aging process. It contains no less than 8 vitamins, 24 mineral compounds, 18 amino acids as well as organic acids and other compounds that are essential to our health and well-being. It is also contains Ultra Violet-B adsorbing substances that prevent the harmful effects of UV radiation on skin.
Swissoats A3 Unique Features
Has been extensively studied in North America, Europe and Singapore.
Meets the nutrient requirements and can be taken by men and women of all ages.
Can be consumed while on other medications, no interaction with drugs.
It's not a synthetic drug hence has no side effects or toxicity
Oats hold the distinction of the first food with FDA approved specific health claim "Soluble fiber from oats, as part of a low saturated fat, low cholesterol diet, may reduce the risk of heart disease."
Swissoats A3 Quality
Swissoats A3 is manufactured under strict GMP Standards supervision with guaranteed high Quality & Purity assurance thru Swiss Agency for Therapeutic Products Conformity
Feel the beneficial effects within 2 weeks
After consumption of 2 to 6 boxes (depending on individual life style) of Swissoats A3, you can begin to feel and enjoy the followings:
Regeneration and Anti Aging
More Energetic physically and mentally
Keep Skin and Hair Radiant and Healthy
Improve alertness and concentration
Enhance Blood circulation and metabolism approved
Promote a stronger immune system and speed up recovery
Improve Vitality, Stamina and Strength
Relieve stress and better sleep
Reduced Glycemic responses and assist weight loss
Relieve symptoms of Gout, arthritis and rheumatism
Swissoats A3 Clinical Trial
The effectiveness of Swissoats A111 and Swissoats A3 (enhanced formulation), and its ingredients has been clinically tested in Europe, USA and Singapore and has been proven to be both safe and effective.
A 6-week double-blind cross-over clinical trial was performed with men averaging 40 years of age in which the effect of Swissoats A111 on the static strength of 13 muscle groups was tested. Those receiving placebo did not experience significant change, while improvement was evident in 7 muscle groups of those treated with Swissoats A111. Furthermore, it was found that the exercise-induced rise in blood pressure was less severe in the treated group than in the placebo group. Remarkably, it was also recorded that diastolic pressure in Swissoats A111 group became lower. The anaerobic power as well as endurance time increased significantly after Swissoats A111 treatment, while the placebo group experienced virtually no change in these parameters. No side effects were noted.
A study conducted at the Hungarian University of Physical Education in Budapest measured the level of testosterone excretion following the use of Swissoats A111. The subjects taking Swissoats A111 showed significantly higher testosterone excretion both in regard to pretreatment and compared to the placebo group. Endocrine analyses from a crossover double-blind study on blood samples while the subjects were using Swissoats A111. There was no increase in testosterone when the starting levels were already high, underscoring once more the safety of the product. It will return men to a healthy testosterone level, but not allow it to become excessive.
Testosterone is also produced in both the ovaries and adrenal glands of women, just as a small amount of estrogen, the so-called female hormone, is produced in men. Although women make only about one-tenth of the testosterone that men do, it is nevertheless an important hormone for normal female sexual development and performance. In fact, puberty and the onset of menstruation in females are triggered by the increase in the production of testosterone and DHEA by the adrenal glands.
The advanced homeopathic formulations and delivery systems tested with focus group testing methodology and elaborate health histories and protocols, including new products formulated for prostate conditions of men and menopausal and PMS conditions with women. Again following the guidelines of the Homeopathic Pharmacopoeia and the Homeopathic Materia Medica.
In Singapore, a study was done to determine the efficacy of Swissoats A111 in relieving andropause (male menopause) symptoms and improving total and free testosterone levels in Singapore men. Seventy six adult males who consulted for symptoms of male menopause were recruited and given 300 mgs of Swissoats A111 preparation twice a day. Andropause score, total and free testosterone levels were determined prior to start of therapy and after 28 days of treatment. The results for each parameter were compared pre- and post therapy and subjected to statistical analysis using paired-T test to determine any significant difference.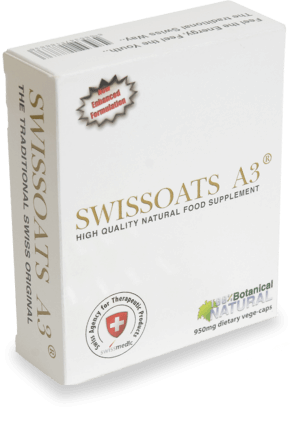 Swissoats A3
Swissoats A3 is cold-pressed extracted from special strain Oat plants, so as to produce products with better nutritional and quality content than extracts taken from more common oat varieties.
BENEFITS
For Men: Relieves andropause, Cures benign prostate, Protects from baldness
For Women: Relieves menopause, Relieves PMS symptoms with not smooth menstruation and cramps, Relieves post-natal depression, Polycystic ovary syndrome (PCOS)
CONTENT / USAGE
 30
30 capsules
 1
capsule per day after eating